Dragon Fruit / Pitaya / Pitahaya
Dragon fruit (Hylocereus) is also known as a pitaya and is a tropical plant that produces edible fruit. This is a fruit that is often seen in health food stores and it originates from several different places. Dragon fruit is used for food and medicine. Dragon fruit tastes wonderful! It's sweet and crunchy, with a flavor similar to a kiwi and pear combination. It features a mouth-watering light sweet taste, an intense shape, and color, and the flower is striking and very fragrant. In addition to being tasty and refreshing, this beautiful fruit boasts a lot of water and other vital minerals with varied nutritional ingredients.
There are two different species, Hylocereus Undatus which has white flesh, and Hylocereus Polyrhizus which has red flesh. The flesh of the red dragon fruit is sweeter than white flesh varieties and has a beautiful vibrant red to purple color.
As with other fruits, you can keep these out at room temperature for several days so long as they're uncut. Once cut, you should eat your dragon fruit immediately or store it in the fridge for a day or so until it begins to brown. If you'd like to slow the ripening of uncut dragon fruit, place it in a plastic bag and store it in the fridge. They're prone to absorb flavors and odors from other foods, so the baggie will help prevent this.
Here are the nutrition facts for a serving of 3.5 ounces, or 100 grams (1Trusted Source):
Calories: 60
Protein: 1.2 grams
Fat: 0 grams
Carbs: 13 grams
Fiber: 3 grams
Vitamin C: 3% of the RDI
Iron: 4% of the RDI
Magnesium: 10% of the RDI
The dragon fruit is best eaten by cutting the fruit in half and scooping the flesh out. Dragon fruits are deliciously chilled and can be served in fruit juices, fruit salads, smoothie, or made into jam. You can slice the dragon fruit, blend dragon fruit in a smoothie, eat dragon fruit with lemon or lime, and add dragon fruit to a fresh fruit salad. They can also be juiced and added to alcohol to make a very delicious tropical drink! Here are 3 delicious ways: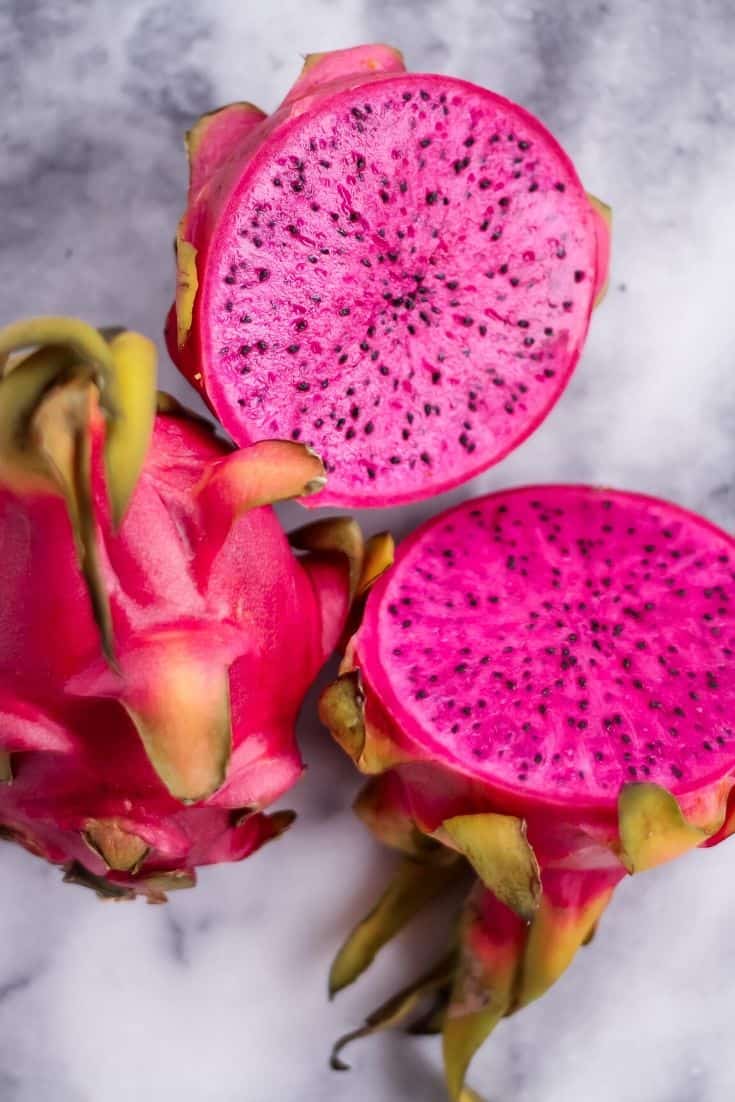 Scoop It Out
Take the dragon fruit and cut it into half. Then using a spoon, scoop out the flesh and enjoy it fresh or you can even drizzle it with a little honey and have it as a mid-meal treat. The outer skin is inedible though, so avoid it.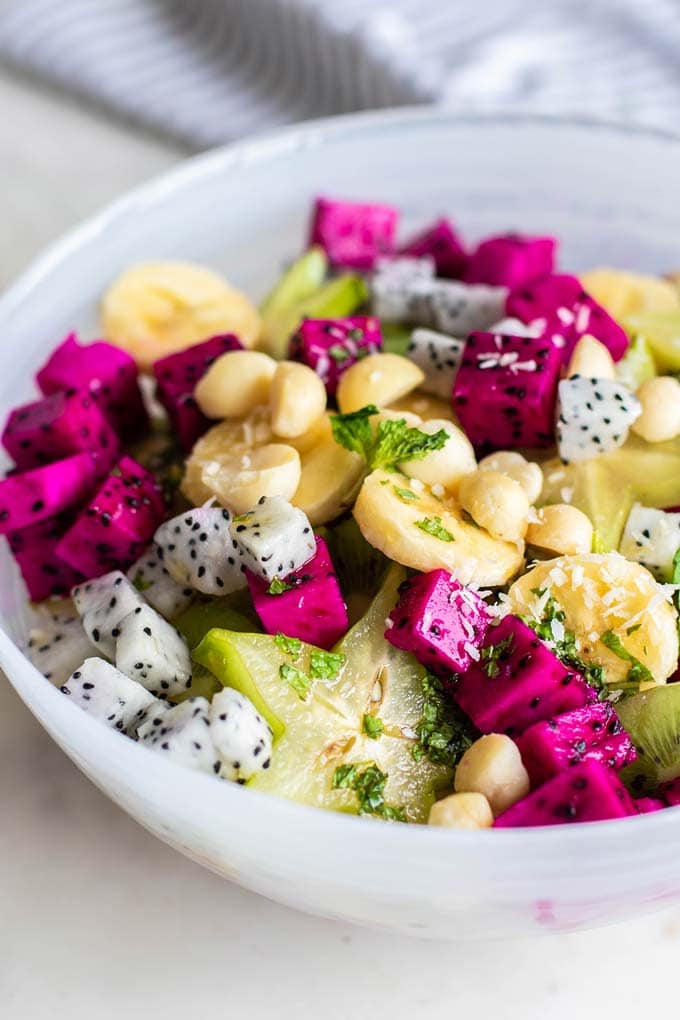 Slice It For Salads & Muesli
All you need to do is peel the scaly outer layer and then slice the inner flesh as per your liking. You can toss the pieces with other fruit slices to make a refreshing fruit salad. Or add it into your bowl of muesli containing bananas, nuts, and seeds.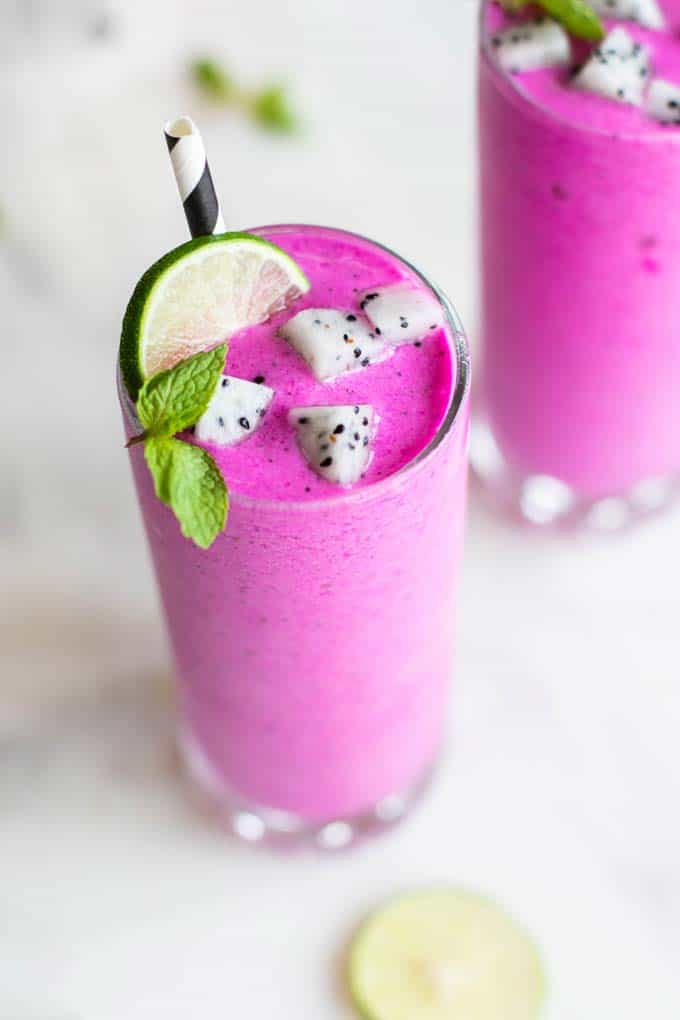 Dragon Fruit Smoothie
Once you have peeled the fruit, you can use the flesh to make breakfast smoothies and refreshing juices at home. Dragon fruit has a subtly sweet flavor which can be teamed with a whole range of ingredients, especially kiwi, pineapple, banana, strawberries, and oranges.
FOB Price
Whatsapp/Call us
Minimum Order Quantity by Sea
20ft/40ft reefer container
Minimum Order Quantity by Air
2 MT
Supply Ability
More than 1,000 tons per month
Type
Tropical fruit
Style
Fresh
Cultivation Type
Conventional
Weight
250 – 600 grams per piece. Customized size are welcome
Grade
A
Maturity
70-85% or Negotiable
Color
Red
Taste
Sweet, delicate taste. It is described as a cross between kiwi and pear, or kiwi and watermelon.
Shape
Oval, elliptical, or pear-shaped
Species
Hylocereus Polyrhizus
Seasonality
All year supply
Peak Season
October to March
Low Season
April to September
Storage Life
28 – 35 days
Container Storage Temperature
0-10°C. Optimum temperature 5°C, according to buyer requirement
Optimum Humidity
85% – 90%, according to buyer requirement
Ventilation Setting for Containers
15 m³/hr, according to buyer requirement
Modified / Controlled Atmosphere
No reported Controlled Atmosphere (CA) data are available
Place of Origin
Indonesia
Payment Terms

Cash in Advance 100%
T/T 50% Down Payment & 50% after loading in Container
T/T 50% Down Payment & 50% after copy Bill of Lading
100% LC At Sight
Negotiable

Shipping Terms
Packaging Detail
Packing with a perforated plastic bag (perforated with 1 cm holes), and corrugated cardboard boxes. 5-10 kg/carton, according to buyer requirement
Processing Time
2 to 3 weeks (for the first order)
Port Loading

Port of Tanjung Priok, Jakarta
Soekarno-Hatta International Airport, Banten

Documents

Original Bill of Lading/Airway Bill
Commercial Invoice & Packing List
Phytosanitary Certificate
Certificate of Origin Form D
After the seller and buyer agree with T&C above then signing a contract
The seller will prepare the product, and then booking the container and manage the shipment schedule, and also inform the buyer of the schedule of loading in the preferred ship port, and the Estimated Time of Arrival (ETA) in the destination port
The seller sends all documents to the buyer by email, after receiving all documents than the buyer pay the rest of payment
Eco Friendly
All of our products that we use are Eco Friendly and good for the environment.
High Quality Production
Our commitment to the quality leads us to take care of every step throughout the production and marketing process.
Maintained
All of our products that we use are Eco Friendly and good for the environment.
Good Agricultural Practices
Collection of principles to apply for on-farm production and post-production processes, resulting in safe and healthy food and non-food agriculture products, while taking into account economic, social and environmental sustainability.
Pesticide Free
Grown and produced without chemicals.
Clean & Tidy
All of our products that we use are Eco Friendly and good for the environment.
Indonesia is one of the tropical countries which have the greatest level of biodiversity

Native Indonesian tropical fruit is fairly a lot

Indonesia has long been known as the country that produces abundant delicious fruits

The climate and the supporting temperature make numerous types of fruit grow with a fresher taste

Indonesia lies between the equator line which then makes this country becoming "tropical country" that has only 2 seasons, raining season, and dry season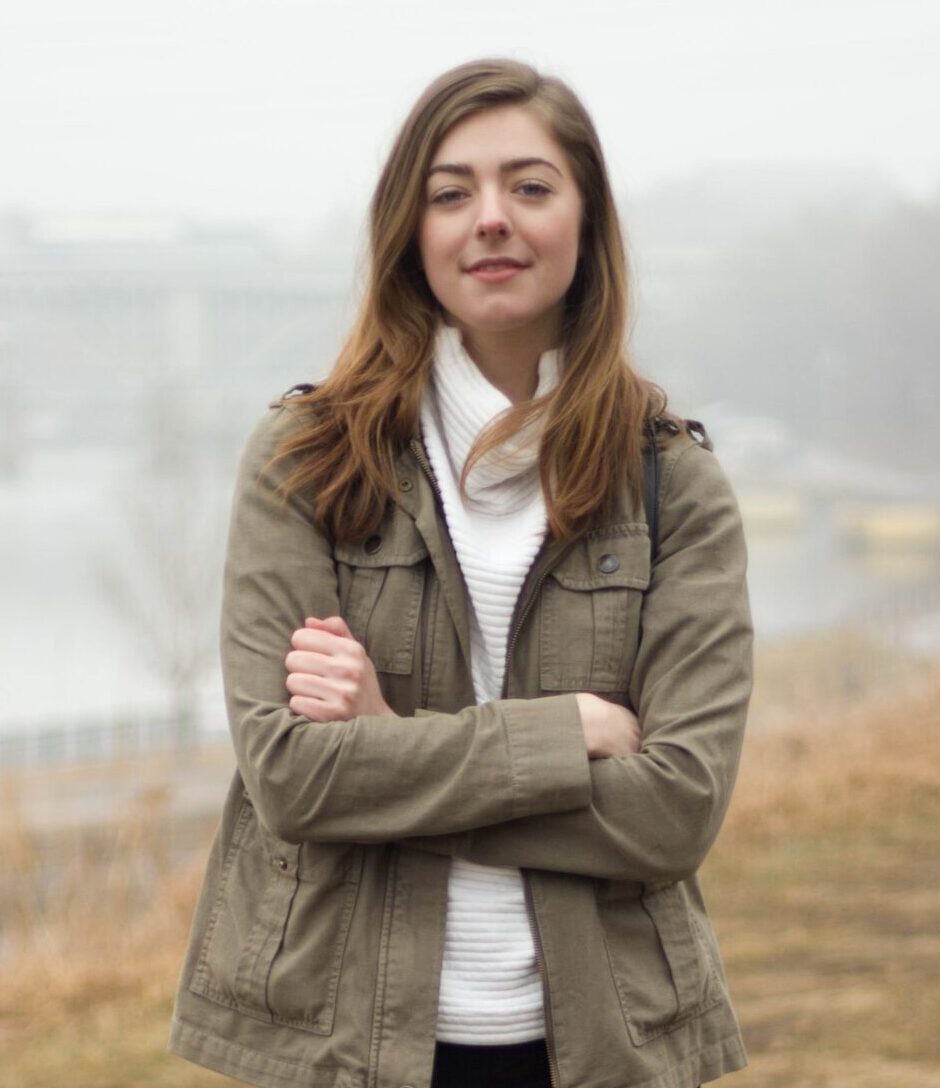 PT. Global Fajar Indonesia is an excellent company with outstanding customer service! I am very pleased with everything about this company. Honor and integrity runs deep in this company.
Rhoda W. Brown
United States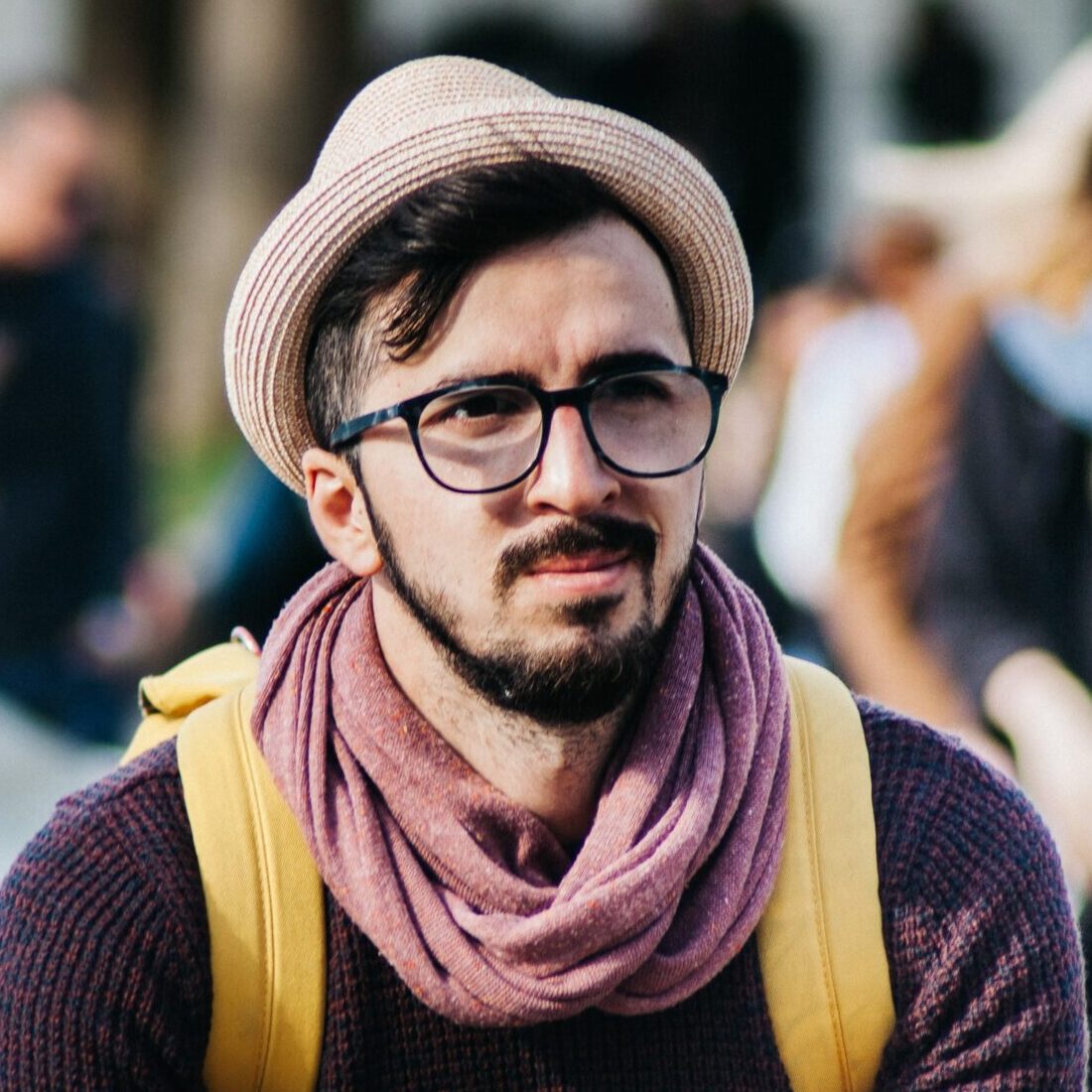 This is an amazing company. They ship fast, the fruits are high quality, they give detailed instructions and educate on the fruit and most importantly, their customer service is prompt and courteous. You have a life long customer.
Aize van Meijeren
Netherlands
Monthly Newsletter
Keep up to date with PT. Global Fajar Indonesia by signing up for our email newsletter. You will be the first to know about the latest arrivals, news, and promotions.