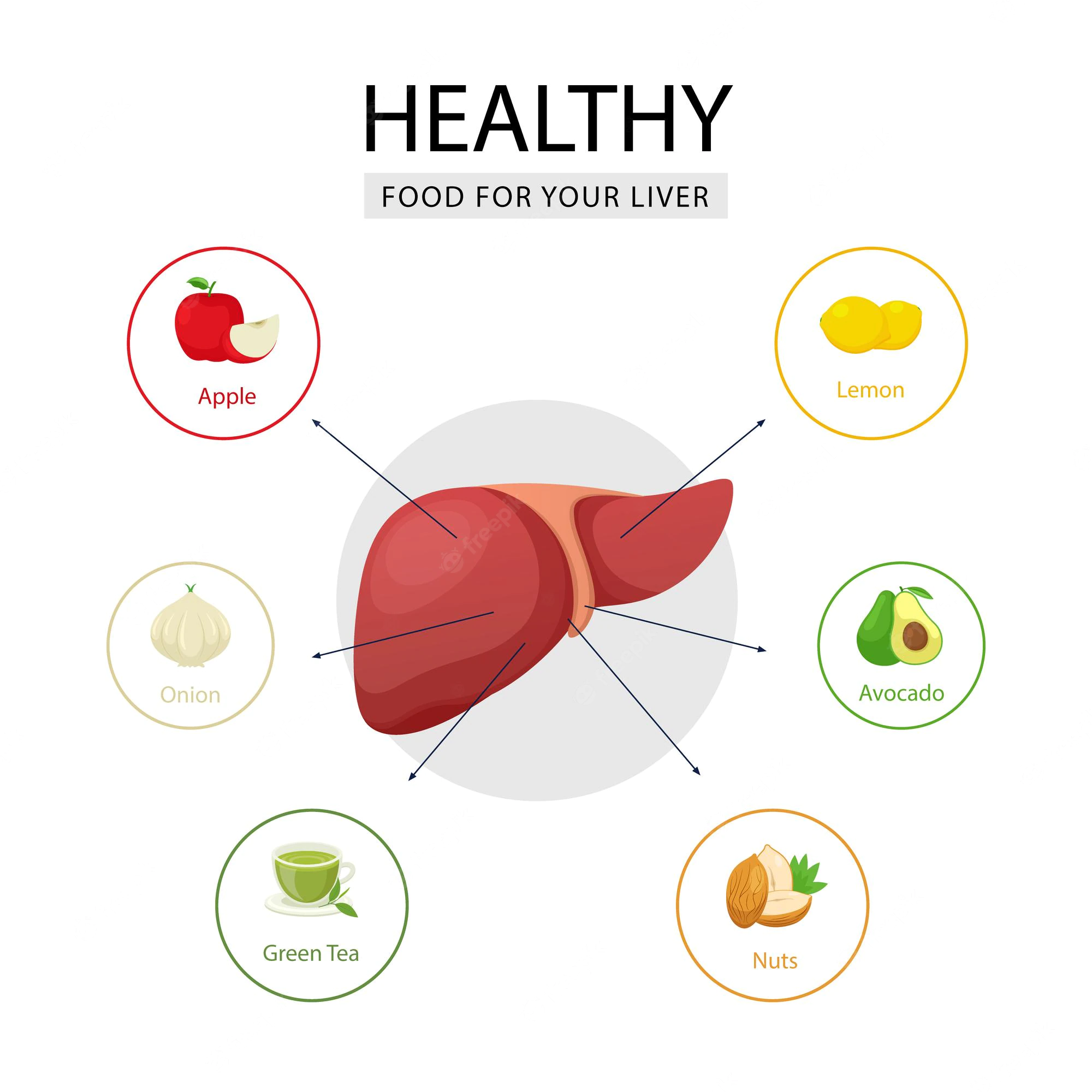 Guava, a tropical fruit native to Central and South America, is not only delicious but also packed with essential nutrients that can benefit your overall health. This superfruit is known for its unique flavor and fragrance, which is often described as a combination of strawberry and pear. But did you know that guava can also play a significant role in detoxifying and boosting your liver health?
Understanding Liver Health and the Importance of Detoxification
Before we delve into the benefits of guava for liver health, it's important to understand the role of the liver and the significance of detoxification. The liver is the largest internal organ in the human body and is responsible for various vital functions, including detoxification. It helps in filtering toxins, metabolizing drugs and alcohol, and producing bile, among other functions.
Maintaining a healthy liver is crucial for overall well-being. When the liver is overloaded with toxins or not functioning optimally, it can lead to various health issues, including fatty liver disease, liver inflammation, and even liver failure. Therefore, supporting liver health and ensuring proper detoxification is essential for a healthy body.
The Role of Guava in Liver Health and Detoxification
Guava is a powerhouse of nutrients that can play a significant role in supporting liver health and promoting detoxification. It contains high levels of antioxidants, such as vitamin C, which can help protect the liver from oxidative stress and damage caused by free radicals. Additionally, guava is rich in dietary fiber, which aids in digestion and prevents the accumulation of toxins in the liver.
The natural compounds found in guava, such as flavonoids and phenolic acids, have been shown to have hepatoprotective properties, meaning they can help protect the liver from damage and promote its overall health. These compounds work by reducing inflammation, improving liver enzyme levels, and enhancing the liver's detoxification processes.
Nutritional Profile of Guava and Its Impact on Liver Function
Guava is not only delicious but also a nutritional powerhouse. It is rich in vitamins, minerals, and dietary fiber, making it an excellent addition to your diet for liver health. Here is a breakdown of the key nutrients found in guava and their impact on liver function:
Vitamin C: Guava is one of the richest sources of vitamin C, which is essential for collagen production and immune function. Vitamin C also acts as a potent antioxidant, protecting the liver from oxidative stress.
Dietary Fiber: Guava is high in dietary fiber, which aids in digestion and regulates bowel movements. This helps prevent the buildup of toxins in the liver and promotes overall gut health.
Potassium: Guava is a good source of potassium, a mineral that helps maintain proper fluid balance in the body. Adequate potassium levels are essential for liver health and the proper functioning of liver cells.
Vitamin A: Guava is rich in vitamin A, which is crucial for maintaining healthy liver tissue and promoting the regeneration of liver cells.
Research and Studies on Guava's Effects on Liver Health
Numerous studies have been conducted to explore the potential benefits of guava on liver health and detoxification. One study published in the journal "Food and Chemical Toxicology" found that guava leaf extract exhibited significant hepatoprotective effects in rats with liver damage induced by a toxic compound. The researchers concluded that guava leaf extract could potentially be used as a natural remedy for liver diseases.
Another study published in the journal "Phytotherapy Research" investigated the effects of guava leaf extract on liver injury induced by a high-fat diet in mice. The results showed that guava leaf extract reduced liver inflammation and improved liver enzyme levels, suggesting its potential as a therapeutic agent for non-alcoholic fatty liver disease.
These studies, along with several others, highlight the potential of guava as a natural remedy for liver health and detoxification. However, further research is still needed to fully understand the mechanisms by which guava exerts its beneficial effects on the liver.
Incorporating Guava into Your Diet for Liver Health
Now that you know about the impressive benefits of guava for liver health, you may be wondering how to incorporate this superfruit into your diet. Here are some simple and creative ways to enjoy guava and reap its liver-boosting benefits:
Fresh Guava: Enjoy guava as a snack on its own or add it to fruit salads for a refreshing and nutritious treat.
Guava Smoothie: Blend fresh guava with your favorite fruits, yogurt, and a handful of spinach for a nutrient-packed smoothie that supports liver health.
Guava Jam: Spread guava jam on whole grain toast or use it as a topping for oatmeal to add a burst of flavor and liver-boosting nutrients to your breakfast.
Guava Salsa: Dice guava, tomatoes, onions, and cilantro, and mix them together with lime juice for a tangy and nutritious salsa. Serve it with grilled fish or chicken for a liver-friendly meal.
Guava Recipes and Creative Ways to Enjoy This Superfruit
Here are a few more guava recipes and creative ways to enjoy this superfruit:
Guava Salad: Combine guava slices, mixed greens, avocado, and a drizzle of balsamic vinaigrette for a refreshing and nutrient-rich salad.
Guava Iced Tea: Brew a pot of your favorite tea and add guava slices for a tropical twist. Chill it in the refrigerator and serve it over ice for a refreshing liver-boosting beverage.
Guava Chia Pudding: Mix chia seeds with guava juice and let it sit overnight for a delicious and nutritious pudding. Top it with fresh guava slices and enjoy it as a healthy dessert or breakfast option.
Other Lifestyle Factors That Support Liver Health
While guava can be a valuable addition to your diet for liver health, it's important to remember that overall lifestyle factors also play a crucial role in maintaining a healthy liver. Here are some additional lifestyle factors that can support liver health:
Maintain a Healthy Weight: Excess weight and obesity can increase the risk of fatty liver disease. Maintaining a healthy weight through a balanced diet and regular exercise can help prevent liver-related issues.
Limit Alcohol Consumption: Excessive alcohol consumption can damage liver cells and lead to liver inflammation and scarring. Limiting alcohol intake or abstaining altogether is crucial for liver health.
Stay Hydrated: Drinking an adequate amount of water helps flush toxins out of the body, supporting liver function. Aim to drink at least eight glasses of water per day.
Exercise Regularly: Engaging in regular physical activity helps improve liver function and promotes overall well-being. Aim for at least 30 minutes of moderate-intensity exercise most days of the week.
Precautions and Considerations When Using Guava for Liver Health
While guava is generally safe for most people, it's essential to exercise caution and consider any potential allergies or medical conditions before incorporating it into your diet for liver health. If you have any concerns or are currently under medical treatment, it's best to consult with a healthcare professional before making any significant dietary changes.
Additionally, it's important to note that guava should be consumed in moderation as part of a balanced diet. Excessive intake of any food, including guava, can lead to unwanted side effects.
Conclusion: Harnessing the Power of Guava for a Healthy Liver
In conclusion, guava is not only a delicious tropical fruit but also a natural powerhouse that can detoxify and boost your liver health. Its high levels of antioxidants, dietary fiber, and beneficial compounds make it an excellent addition to your diet for supporting liver function and promoting overall well-being.
By incorporating guava into your diet and adopting a healthy lifestyle, you can harness the power of this superfruit to maintain a healthy liver and protect it from potential damage. Remember to consult with a healthcare professional if you have any concerns or medical conditions before making significant dietary changes. So, why wait? Start enjoying the liver-boosting benefits of guava today!
CTA: Start your journey towards a healthy liver by incorporating guava into your diet. Try some of the delicious guava recipes mentioned above and experience the amazing benefits this superfruit has to offer. Your liver will thank you!
Share This Story, Choose Your Platform!